Zinfandel 2016, Resiliency Red
Sonoma Strong, C.O.P.E. fundraiser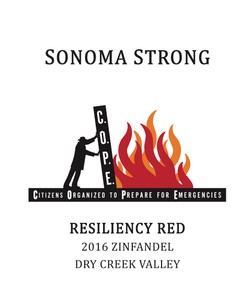 For a cause very near and dear to us and our community- working toether to be prapared. Looking ahead to keep every person safe, ans so we help our firefighters do their job. This bottle of wine will aid in the efforts of neighbors helping neighbors. Making Sonoma County stronger...even more resilient!
All profits go to benefit Northern Sonoma County C.O.P.E. (Citizens Organized to Prepare for Emergencies). The mission of COPE is to encourage residents, families, and neighborhoods to become and remain better prepared to respond to and recover from emergency situations.
A classic Zinfandel blend. Dry Creek Valley is first among equals in Zinfandel growing regions due to its perfect pairing of soils and climate. 84% Zinfandel from four vineyards that epitomize the Dry Creek Valley terroir melds seamlessly with 9% Petite Sirah and 7% Carignane, creating a wine with complexity, depth, and above all, balance.
85 cases produced
Wine Specs
Appellation
Dry Creek Valley