Petite Sirah 2013, Dry Creek Valley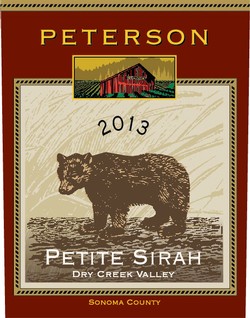 Petite Sirah is a grape not widely grown outside of California, and could be considered as much of an American variety as Zinfandel. It has more often been used as a blending component to enhance the color, tannins and structure of other red varietals, since by itself we usually find Petite Sirah to be rather monolithic and one-dimensional. Since our first vintage of Petite Sirah in 1994, we've chosen to blend other full-flavored varietals that complement Petite Sirah, and add complexity, layers of flavors, spice and length.
The gorgeous inky color seduces you to whiff and sip, and what follows doesn't disappoint. Blackberry aromas tightly woven with cedary oak mingle with hints of fresh brewed gourmet coffee, dried herbs and floral notes.
Wine Specs
Appellation
Dry Creek Valley