Petite Sirah 2007, Dry Creek Valley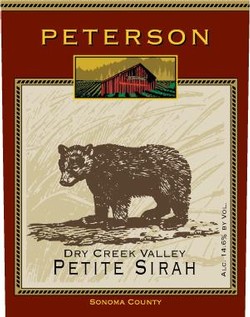 Tasting Notes
Warning: Not for the faint of heart.
Our '07 Petite Sirah is so intense we decided we should start with a warning label. The inky blue-black color, coupled with the intense dark fruit nose wrapped in a mineral essence, should be warning enough of the robust wine that follows.
The focused core of dark, concentrated berry is intertwined with the mineral essence found in the nose. This minerally quality re ects the soil where the grapes are grown, making this an excellent example of a terroir-driven wine.
Chewy yet rounded, the avors are reminiscent of velvet boxing gloves with the smooth, richly intense fruit and the one-two punch of the tightly woven structure. Behind the core linger hints of anise and vanilla with just a touch of oral notes.
It's tempting to consume now with hearty stews or roasted meats, but those patient enough to cellar it for a year or two, or more, will be rewarded with a full-bodied, rich, mellow Petite Sirah.
Wine Specs
Appellation
Dry Creek Valley