Mendo Blendo 2013, Red Table Wine, Mendocino County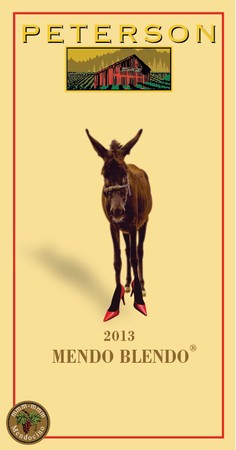 We began producing our Zero Manipulation wine from the Tollini's Home Ranch "Wild Vines" Carignane in 2000, and have produced it every year since. Alvin Tollini is a third-generation Redwood Valley grower and a wonderful person, as well as an exceptional grape grower. When Alvin offered us some of his Petite Sirah grapes a few years later, we were excited to produce a wine with the Tollini Mendocino Petite Sirah at its core. With 42% Petite Sirah along with 42% Syrah, 11% Carignane and 5% Grenache—all from Tollini Vineyard—we couldn't legally call the wine a Petite Sirah, but wanted to come up with a fun name to reflect its origins. The name "Mendo Blendo" is our wink and a nod to Mendocino's other agricultural crop of note.
Tasting Notes
This playful wine is all about having fun. From the whimsical label to the boot-stomping flavors, here's a wine that doesn't take itself too seriously and it's just there for your pure enjoyment.
Subtle aromas of vanillin oak and lively berry captivate one into the first sip. After that, this robust wine hooks you with its juicy berry blend of flavors. Ripe blackberry, espresso and dark chocolate are framed with softening tannins and traces of oak. A bit rough and chewy, but given a bit of time to breathe, it calms right down and behaves civilly, even with those red shoes.
Wine Specs
Appellation
Redwood Valley
Vineyard Designation
Tollini Vineyard
Product Reviews
Thomas Van Vranken
(Jul 5, 2018 at 7:32 AM)
I bought a couple of bottles after tasting with Kyle one Sunday morning last June. While you don't get a true appreciation with just a tasting sample, it was good enough to buy. After finishing the first bottle at home, this was a very good wine especially considering the price. I am a fan of anything Petite Sirah/Syrah and this turned out to be a really nice blend. As a side note to the tasting experience, besides Kyle, we met and talked to Fred (the owner) and son Jamie (winemaker) and toured the facility. This interaction makes the visit all the more enjoyable. Stop by if you can.