Carignane 2012, Bradford Mountain Estate Vineyard
Estate Grown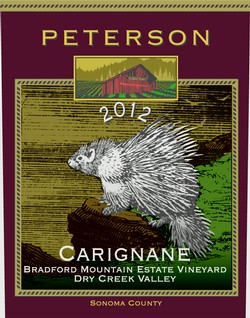 The combination of the earthy, high tone variety planted in a mineral rich, complex, low pH mountain soil makes for a wine that we feel showcases a truly unique terroir. To bring just a little more muscle to the nervy frame without overwhelming the inherent character, we chose to blend a bit of Petite Sirah and Zinfandel from the rows directly above the Carignane vines.
Tasting Notes
Although this varietal is considered a simple blending wine by most, this intense and complex Carignane reflects the distinctive terroir of our Bradford Mountain Estate Vineyard and shows that where you plant a vine can profoundly influence the resulting flavors in the grapes.
Layered aromatics reveal spicy dried strawberry woven with traces of earth, tobacco and Herbes de Provence. The silken entry is rich with brambly blackberry and strawberry jam. A juicy bright red fruit core is wrapped in a dark-toned, yet graceful, structure with notes of mocha, vanilla and baking spices. The playful light and dark flavors linger on the palate.
Light yet dark and complex, this wine brings out the best in most menus. It will pair perfectly with a brick-oven all-meat or vegetarian pizza, or try it with pulled-pork sliders topped with sautéed onions drizzled with a balsamic reduction.
Wine Specs
Appellation
Dry Creek Valley
Vineyard Designation
Bradford Mountain Estate Vineyard
Product Reviews