Cabernet Sauvignon 2011, Bradford Mountain Estate Vineyard
Estate Grown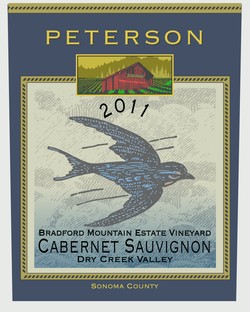 This is our most terroir-driven wine—a Peterson wine
that shouts out its origins with every sip. Our Bradford
Mountain vineyards produce wine grapes with a unique
and very recognizable minerality, and that expression of
place reaches its apex in the Bradford Mountain Estate
Vineyard Cabernet Sauvignon.
Though big and bold, this is still a wine with balance and
finesse. It is not one of those over-oaked and overextracted
creations that are currently the rage with
some wine critics yet have no place on the table, nor
the potential for successful bottle aging. This is a wine
that will definitely benefit from both bottle age and/or
decanting to allow the wine to open and reveal all of its
depth and complexity.
Wine Specs
Varietal
Cabernet Sauvignon
Appellation
Dry Creek Valley
Vineyard Designation
Bradford Mountain Estate Vineyard