Bradford Mt. Estate Harvest Club Lunch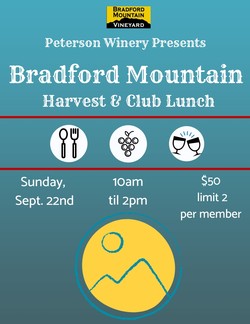 Meet at the winery, we'll drive up together!
There's a little mountain on the western edge of Dry Creek Valley, where the Petersons grow some magnificent grapes for their small production estate wines. Club members are welcome to join us on this mountain to explore the vineyard and take in the views. Then, sit in shade of the oak trees to enjoy a catered, family style lunch paired with only estate wines.
Sunday, Sept. 22th 10:30a.m- 2p.m.
$50 for Club members and their guests. Limit 2 per membership