Sangiovese 2013, Il Granaio, Dry Creek Valley, 1.5L
"The Barn"- in Italian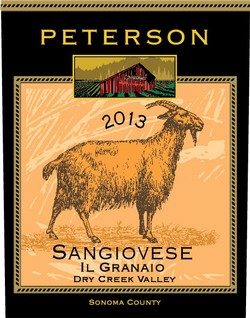 Our Il Granaio Sangiovese began with the 2000 vintage when Jamie decided to create a Sangiovese blend juicy, spicy and exotic enough for the "Super Tuscan" moniker (Sangiovese blended with non-traditional varieties). The wine quickly developed a following, and we've produced the Il Granaio Sangiovese every vintage since.
Each spring, Fred and Jamie assess the previous vintage of Sangiovese and begin the process of deciding the blend for that year's Il Granaio. In blending, we are guided by two simple rules—capture the essence of the Sangiovese variety from that vintage, and build on its core characters, to assemble the juiciest, most complex wine possible. The blending varietals and percentages will vary for each vintage.
For the 2013 Il Granaio, we combined 25% of our Bradford Mountain Estate Vineyard Bordeaux varietals —Cabernet Sauvignon, Petit Verdot and Merlot—with 75% Sangiovese from the Teldeschi Vineyard, our neighbors to the north of the winery, to achieve the wine that we were seeking. We are pleased with the result, and think you will be, too.
Wine Specs
Appellation
Dry Creek Valley