Muscat Blanc 2013, Dry Creek Valley, 375ml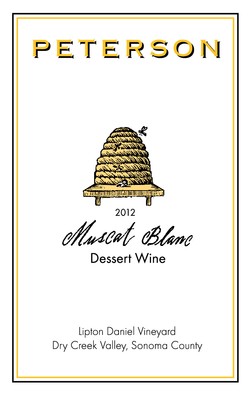 The Muscat de Beaumes de Venise from the Rhone Valley region in France has long been a favorite of the Petersons. The beauty of a Muscat Blanc produced in the Beaumes de Venise style is its versatility. Although it is high in alcohol and residual sugar, the wine never takes on the cloying characteristic of a late harvest wine. The strongly floral aromatics blend with the exotic flavors to create a delicious wine that is a perfect treat on a warm sunny day or by the glow of a winter fire.
Gorgeous aromatics of an orange grove in full bloom—sweet, delicate and rich—present an irresistible nose. The same flavors are mirrored on the palate—honeysuckle, white peach and apricot with the addition of subtle baking spices. The silken, opulent texture is balanced by the crisp acidity.
Wine Specs
Appellation
Dry Creek Valley
Vineyard Designation
Lipton-Daniel Home Farm