Blending Seminar- The World of Rhone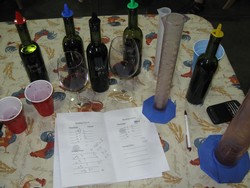 Join winemaker Jamie Peterson in the cellar Saturday morning for a tour of the Rhone varietals we produce here in Dry Creek VAlley. Taste 5 100% Rhone varietals and trial to create your perfect blend. Bottle it yourself that day, to bring home a one-of-a-kind souvenier.
Lunch will be provided.
Limited seating.
Event starts at 10:30. Ends approximately 1p.m.